This covers ep 1-51.
Production Woes
There is hope
Things I'm not fan of
Final Thoughts
What is Next ? (Spoiler)
Production:
Masahiro Sugasawa (TV Tokyo), Maiko Isogai (Pierrot), Naomi Komatsu (Pierrot)
Planning:
Takuyuki Hirobe (TV Tokyo), Masana Takahashi(Shueisha), Kazumichi Ueda(Pierrot), Hideo Katsumata(Avex), Kazunori Goka(Bandai Namco Entertainment)
In BC, some staff work due to director Yoshihara's connection and some due to producer Maiko Isogai & Naomi Komatsu's connection.
Production Woes
Having experienced persons in charge of production with good schedule can elevate a project. Since many animators, directors, work due to connections with production staff. On the other hand if all of production desk and production assistants are less experienced, then it will be difficult to find good staff.
No in-house in-between animators :
It is shocking to see there are no Pierrot In-between animators after episode 8 (except OP or ED). In-between animators from Pierrot Animation worked in episode 1,2, 6 & 8 only. The series director Tatsuya Yoshihara (吉原達矢) made a direct appeal in twitter after this to join as in-betweener in Pierrot. But BC episodes never got in-house in-between animators after this. Yoshihara himself ended up doing in-between in Ep. 17, 49. Having to outsource all of in-between work not only affects the episode's quality directly but also has long term effects. As, new in-betweeners usually train under certain animators and get better, they also form connection with the staff and work in the same series when become good enough to do Key animation or later animation supervisors. Lack of good in-betweeners affects the core staff's work like director and animation supervisor who care too much end up going overwork.
In-house Episode Director:
In first half of the year director Yoshihara himself handled all important in-house episodes 1,2,17. Yuji Tokuno (徳野雄士), who was production assistant at Tatsunoko Pro. (Pripara, Ping Pong), was made assistant episode director in Black clover in Ep.1, later became episode director for in-house episodes like 6, 19, 29. But he would later leave the TV series to direct Black Clover Quartet Knight game cut scenes, and then subsequently would leave Black Clover project. So by the end of 2nd cour (1st half of the year), there was lack of regular episode director to work for in-house episodes in rotation. They had to make Tazumi Mukaiyama (向山鶴美), the production assistant from studio Mouse to work as in-house episode director (EP. 27-). Btw, Mukaiyama had continued doing P.A. work for Mouse while working as ED work for in-house episodes. Subsequently, for in-house episodes BC anime has been having episode directors who are mostly used to work for outsourced episodes.
Eri Yuasa (湯浅永梨) was production desk(also called production manager or production Controller) for first two cours. Having no episode director or no in-between animator to work for in-house episodes, Production desk must have got fed up. What difficulty production desk would have faced in managing everything is hard to understand as outsider. But, Eri Yuasa(Ep. 1-28) either quit or got kicked after end of 2nd cour from the post of Production Desk.
Ayataka Tanemura (種村綾隆) from Mouse who was the only good regular episode director was made assistant series director (Ep. 28-). For five or so months no one would take up the job of Production desk, on credit. It is hard to imagine how the anime runs with no production desk. Production Desk makes various schedules and look over all teams and arranges staffs that are working in the anime. Was it Tanemura or Yoshihara or someone from production team was looking after whole schedule or production stuff? In the 1st half of the year they had Masano Yagi and Chika Ōkura as Production Assistant (P.A.), making 2 in-house episodes per rotation. In 2nd half year, Miki Tokiwa, Tatsuya Hayashi, Enokida Takahiro would also work as P.A. . So, probably Masano Yagi or Chika Ōkura was doing some of Production desk work. Finally Masano Yagi (八木雅乃) would take up the production desk job, on credit (Ep. 49-).
Sub-contract Studios getting Bankrupt:
As discussed in previous paragraphs, it is clear Studio heavily relies on sub-contracting or outsourcing most of the stuff.

(Note about the chart:
• 2 episodes have both Mouse and drop as production cooperation.
• The chart only shows studios when credited as production cooperation. However studio Mouse and drop are actually involved in few more episodes.
• Being in-house episode does not necessarily mean good quality when actually all of animation is outsourced. Similarly, outsourced does not necessarily mean bad when key staff do all the heavy lifting. )
Back to the point, Black Clover project might be cursed as not one but two sub-contracting studios got bankrupt within span of mere 3-4 months. Around May end, studio, Amo (Ep.13, 20, 26, 33) got bankrupt. It is a horrible situation for hardworking animator, who is unsure about payment for the work he/she did in Black Clover. Matsuo Asami who used to be studio Amo's episode director is now directing in-house episodes (Ep. 42, 50). Later another subcontract studio, drop too would file for bankruptcy. It takes some affect on the anime as a new replacement studio needs to be found in time and they have to work in very short notice like Jumondō did episode 45. But situation gets better once schedule and studios are settled. The staffs from bankrupt studio will find new home (studio) in time.
This is not all, as Yoshihara mentions : Recently, it has been difficult to find not only Animation Supervisors or Key animators but also storyboard artist. (Sep 5, 2018)
After a month or so it will become clear whether they found decent storyboard artist or if someone regular left.
There is Hope:
Despite production woes, there is still some good episode director (ED) / Storyboard (SB) artists are working. Yoshihara himself has continued working in important episodes, he is accompanied by ED/SB like Yoshihiro Sugai, Ayataka Tanemura and SB artists like Jun Kamiya, Hirotsugu Kawasaki. Usually in 8 episode rotation we may get one decent in-house episode and one decent episode from Mouse with Tanemura SB/ED.
Chief Animation Supervisors
They keep the characters appear on model. Their job in Black Clover has been tough due to the fact that they have to correct more terrible drawings from outsourced studios in limited time. There is just so much they can do. So in certain episodes one would often find off model character art. It is because it was drawn bad in first place and there is a limit to how much one can work/ make correction, so some are just left uncorrected.
Itsuko Takeda (竹田逸子) (character designer) has done only 2 episodes in last 6 months for being busy in character design work. Black Clover has introduced too many new characters in short span. I like the uneven and thick contour lines in Takeda's correction.

Shunji Akasaka (赤坂俊士) & Takaya Sunagawa (砂川貴哉)(Main animator):
I love their style; the shape of faces and the way shadows are drawn. Their styles suits Black Clover really well. In the first half year they worked in almost alternate episodes. After Sayuri Sakimoto joined as Chief Animation Supervisor (Ep 31-), they are working in less number of episodes, giving them just enough time to shine like in ep.42, 49. Sunagawa loves Black Clover manga and wants to transmit manga's drawing (in anime) as chief animation supervisor. (source)
Despite all the woes of not having Production Desk or in-beweener or episode director from Pierrot, Black Clover still has given some decent to good action/ effect animation here and there thanks to many good key animators who worked in various episodes. Many of them are due to series director Yoshihara's request or contact and some are from producers' contact. (listing those names who appeared frequently; more than 2 times)
| Animator Name | Episode No. for Action / Effect animation Supervisor | Episode No. for Key animation or 2nd KA |
| --- | --- | --- |
| Yusuke Kawakami | 16 | 1, 2, 4, 6, 10, 17, 35 |
| Isuta | 13, 16, 18, 22, 24, 26, 33, 44, 48 | 2, 6, 13, 19, 27, 37, 44, 49 |
| Tōru Iwazawa | 23,34, 35, 39, 41, 45, 47 | 49, OP4 |
| Tomosato Hosokawa | | 1, 17, 42, 47, 49 |
| Katsuyoshi Nakatsuru | 35, 46 | 1, 46, 51 PC, OP4 |
| Daisuke Hatsumi | | 2, 5, 12, 17 |
| Tamotsu Ogawa | | 1, 2, 17, 35, 42, 44, 49, 50 |
| Tatsuya Miki | | 34, 35, 49, OP4 |
| Tatsuya Yoshihara | 35 | 1, 2, 6, 17, 49, OP4 |
| Yoshihiro Sugai | | 1, 6, 8, 34, OP1 |
As evident from the episode numbers, the 1st cour featured most of good key animators regularly. But as Kawakami and Hatsumi moved to different projects BC suffered a bit in middle. Then Iwazawa, Nakatsuru, Ogawa, Miki joined and are providing good/ decent animation every now and then.
Things I'm not fan of:
Few things that bother me could have been done better.
Texture and color selection:
It does not help that most fights have been in cave. Due to overuse of textures and certain dark color selections it is difficult to follow what is happening in fight. Some animators have shared their genga or animation (which is before background art or color applied), and the scenes are clear.
Disconnected action scenes:
In some cases, even though individual cuts / scenes are well animated the transition between cuts feels disjoint. It is like jumping from scenes to scenes. Overall fights do not flow that well.
This is present throughout the series. Camera shake in many scenes feels like ruining the scenes. There are many camera techniques they could use instead of this.
Final Thoughts:
The 1st cour's episodes were done well. As the production had not crumbled then. The action episodes in the middle of the year like 17, 35/37 took heavy toll on the staff.
As Masano Yagi is now officially Production desk, hopefully things will improve. It has to improve before someone demises due to overwork.
Anyways, the 1st year ended with a bang; that was a couple of weeks ago (Ep. 49). Tatsuya Miki's (三木達也) scenes at end of episode 49 was my favorite for the year (in BC).
What is Next ?
Shueisha has teased about one of upcoming episodes. (source)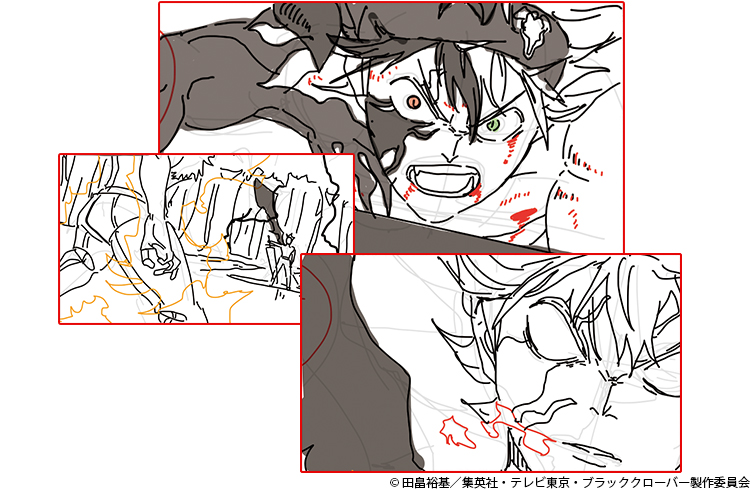 This storyboard is done by Tatsuya Yoshihara himself. This episode looks like adaptation of mid chapter 97, 98 (possibly start of Ch. 99?). My guess that episode could be around December if story follows normal pace. Look forward to it.